The College of Engineering and Physical Sciences(CEPS) at the University of New Hampshire has offered UNH Tech Camp for over a decade. Every summer Tech Camp opens doors to youth, making available the benefits of the UNH research campus. Students from grades 6-12 interact with project leaders, experiencing opportunities in animation, 3D print design, nanotechnology, bioengineering, robotics, forensics and more.
*Scholarships available
*Commuter $450, Residential $850
*All girls programs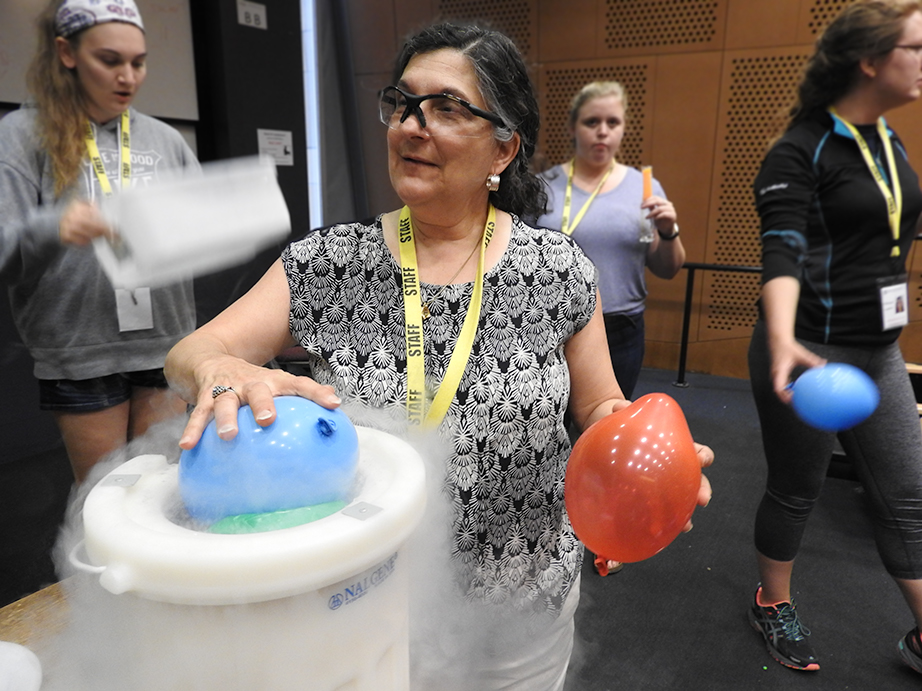 Carmela Amato-Wierda
Faculty Director of Tech Camp
Associate Professor
Materials Science
Phone: (603) 862-2526
Email: 
ccaw@unh.edu
Parsons Hall N139
Durham, NH  03824
Tech Camp at UNH Durham
 
Kingsbury Hall
33 Academic Way Durham, NH 03824
 
Mon. - Fri. 8:30 am - 4:00 pm
 
We will be utilizing multiple classrooms of this engineering building along with the central courtyard for recreational purposes.
Residential Accomodations: A dormitory building (TBD)
Dining: Holloway Commons
Tech Camp at UNH Manchester
 
88 Commercial St., Manchester NH 03101
 
Mon. - Thurs. 8:30 am - 4:30 pm
Fri. 8:30 am - 12:00 pm
 
We will be utilizing the lab/classroom space located on the second floor of the main building. We will also move about the campus, including outside, for some activities.
A deposit is required to secure a spot during enrollment.  There is a non-refundable deposit of 20% of the total cost requested at the time of registration.
Online payments will be the primary payment approach.
Account balances are due 30 days prior to session start date. Within 30 days of a session start day, students with outstanding balances may be dropped from the session. This allows us to offer the spot to another student in a timely way for family and staff planning. 
Students will not be allowed to attend a session unless they are paid in full. Any student with an unpaid balance may be locked from future enrollment in a UNH youth program until the balance is paid in full.
Full refunds (including deposit) are provided in the event UNH cancels a program session.
---
Residential & Special Accommodations
Campers who choose to stay on campus will reside in UNH dormitories from Sunday evening through Friday afternoon
Even though TechLeaders is a two-week program, residential campers leave campus Friday afternoon at the end of the camp day and return the following Sunday evening
The campers are grouped according to gender with a maximum camper to counselor ratio of approximately 8:1
The counselor (gender appropriate for the group) has his/her own room and stays right with the campers
Counselors accompany the campers to dinner and breakfast and go with campers if they leave the dormitory for any reason
More detailed information will be sent to each residential camper prior to camp starting
Campers will be doing a lot of moving from one location to another within Kingsbury Hall as well as between buildings. The buildings at the University that UNH Tech Camp will be using are handicap accessible. While we have faculty and counselors involved in all of the activities, we do not have individual instructional aides available for the campers.
It would be helpful and wise to discuss your concerns with the faculty camp director at the start of camp or even prior to registration.
Carmela Amato-Wierda
ccaw@unh.edu 603-862-2526
---
In Case of Emergency
Although we will use the health supports available on campus, we will always contact the family if a camper becomes ill
In any kind of health emergency, 911 will be called
If a camper does not feel well, they should stay at home
All costs associated with medical care are the responsibility of the student/family
You will be provided with specific contact numbers for the camp director, our assistant, and the CEPS Dean's Office. Someone will notify your child to contact you, or we can relay a message
Cell phones are allowed, but we ask that you not contact the camper directly during the hours of 8:00 am - 4:00 pm.
You should call one of the provided contact numbers during this time.
---
Misc. Questions
Will Campers receive any kid of grade/credit for attending the camp?
The UNH Tech Camp does not have any grading or credit program associated with the camp activities. If the school the camper attends does have a program, the camper will need to make all of the arrangements with their school prior to attending the camp or upon completion of the camp.
Do all campers need to come from New Hampshire?
No. Students from all over come to UNH Tech Camp. In previous years, we had students from all over New Hampshire, Maine, Massachusetts, New Jersey, Wyoming, South Korea, India, China, and Quebec.