John Laymon '73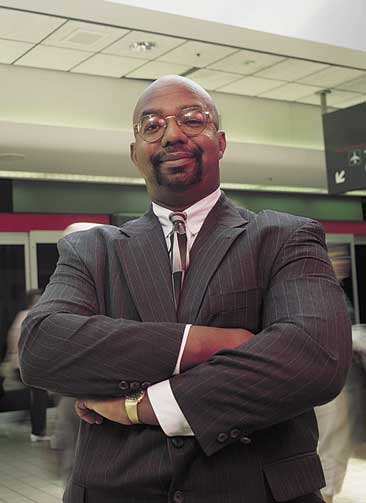 At a banquet held in his honor, John Laymon who graduated in 1973 with a B.S. in Mechanical Engineering from UNH and an M.B.A. from the University of Pittsburgh in 1978, was recognized as the 2005 CEPS Alumni Society Distinghished Alum.
He is the first African American to graduate from the University of New Hampshire with a four-year degree in Engineering. Mr. Laymon is an entrepreneur. He founded Pittsburgh-based JRL Enterprises in 1987 and is its President and sole owner.
If you ride "people movers" in airports or have taken the subway in New York or a trolley in San Francisco or Singapore, chances are you've used one of John Laymon's products. His company, JRL Enterprises, builds and reconditions many of the transit vehicles used by travelers around the globe. Their headquarters arelocated at 3 Gateway Center in downtown Pittsburgh. The company's transit division is located in Jamestown, New York. That facility reconditions transit vehicles, and assembles mechanical/electrical components for new transit vehicles.
Laymon grew up fast and poor in Pittsburgh, the son of parents who never completed junior high school. He was one of 30 young African-Americans who attended UNH under full Martin Luther King Jr. scholarships. Laymon earned his engineering degree at UNH and an M.B.A. from the University of Pittsburgh and then rose through the ranks at a large engineering and construction company. He had been with the company for a decade when his division was sold, and Laymon found he was part of the deal.
"I felt like a piece of meat," Laymon says, recalling the day when he was informed he'd have to leave the company and his hometown. "I'd done all the right things, but suddenly I had no control over my future."
It was this jolting experience that prompted him to start his own business. He put his deep technical, management and marketing experience to use, yet it was hard for him to establish credibility with potential clients and the banks. "Initially, credibility is always an issue, especially for minorities. I'd say, 'I'm the owner, the manager, and the technologist,' and they'd tell me, 'No, you can't do all that,' even though I'd been doing it all along."
JRL Enterprises employs over 100 people and is the fifth largest minority business and second largest African American business in the Pittsburgh area. One of John Laymon's most significant accomplishments is providing fair employment and career opportunities to numerous individuals that are unable to obtain it elsewhere. From the outset, Laymon believed in giving people a chance—particularly historically repressed minorities. One of his managers is a former drug addict, and one of his best supervisors is a former prisoner. He says, "I believe in being socially responsible and creating opportunities for others. People can change, if you give them the chance." He finds great satisfaction in seeing people succeed, support their families and own a home.
John is very active in the Pittsburgh community. He is Chairman of Omega Psi Phi Fraternity's Iota Phi Foundation, which administers the charitable activities of the Fraternity. He serves on the board of the Hill House Association, a social service agency which provides services to Pittsburgh's low income African American community. He is also a member of the Pittsburgh Pirates Minority Business Advisory Board, and a UNH ME advisor. Additionally, John is a valued member of the Board of Directors of the UNH Foundation.