Joseph Paterno '63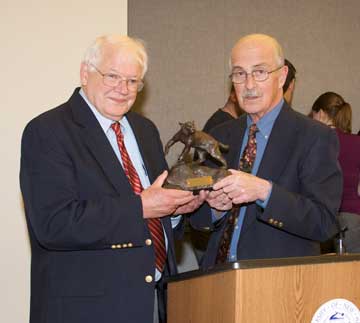 Joseph Paterno, Ph.D. (UNH '63) of Gilford, was recognized as the 2009 College of Engineering and Physical Sciences (CEPS) Distinguished Alumnus at a banquet held in his honor. Dr. Paterno is a chemical engineer and before retiring in 1991 was corporate vice president for Norton Company.
CEPS Alumni Society board member, Harold Davis (UNH '63) informed the audience, "The Distinguished Alumnus Award is given annually by the CEPS Alumni Society for outstanding contribution to society in the field of engineering, science, or mathematics that has enhanced the image of the University of New Hampshire."
From 1970 to 1991 Paterno worked for the Norton Company in Worcester, MA, where he rapidly rose through the ranks from senior research engineer to corporate vice president. At one point in his Norton career, Joe had operating responsibility for all abrasive manufacturing plants worldwide encompassing 13 plants in 8 countries with over 3000 employees. Following retirement in 1991, Joe returned to UNH as executive director of the university's Industrial Research Center providing technical assistance to NH companies.
Although now retired from UNH, he maintains close relations as chairman of the college's Industrial Advisory Council which played a key role in lobbying the state to appropriate over $150,000,000 to renovate Kingsbury, DeMeritt, James and Parsons Halls. Joe chairs the council's "New Kingsbury Hall Equipment" fundraiser which currently totals $225,000. He also serves on the Chemical Engineering and the Electrical and Computer Engineering departments' advisory boards.
In his acceptance remarks Dr. Paterno spoke specifically to the many UNH seniors attending the award dinner saying, "It's great to see so many young, smiling faces out there. It reminds me that although I'm at the end of my professional career, you seniors are just at the beginning of yours. I hope that someday one of you will be fortunate enough to be standing up here like me receiving an award like this. I feel extremely honored for this recognition by my alma mater. Thank you UNH, CEPS and the Alumni Society."
Paterno graduated magna cum laude in 1963 with a BS in chemical engineering. He was president of the NH Alpha Chapter of Tau Beta Pi, the national engineering honor society. In 1965 he graduated from Massachusetts Institute of Technology (MIT) with an MS in chemical engineering. He then attended Rensselaer Polytechnic Institute (RPI) under a NASA fellowship where he took his Ph.D. in chemical engineering, majoring in polymer science, in 1970.
In appreciation of the solid undergraduate education Joe received at UNH, in 2001 he and his wife Nancy gave the university a testamentary trust to establish the Joe and Nancy Paterno Endowed Scholarship Fund to support deserving NH engineering students.