Rajiv Parikh '90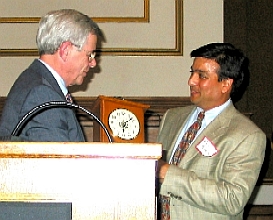 Silicon Valley entrepreneur Rajiv Parikh is the recipient of the 2006 University of New Hampshire College of Engineering and Physical Sciences Distinguished Alumni Award.
Originally from Goffstown, Parikh now lives in Palo Alto, Calif., where he is currently founder and CEO of Position2 Inc., an online performance marketing company that combines search engine marketing with ad networks to generate sales leads for companies around the globe.
"Twenty years ago, when I first came to UNH, I never thought that I would someday receive an honor like this," Parikh said after receiving the award at a dinner co-hosted by the New Hampshire section of the American Society of Civil Engineers and the CEPS Alumni Society on April 21. What's amazing is that a lot of the professors I had are still here, and the passion is still here for uplifting students and taking them to the next level."
The annual dinner meeting was also attended by engineering seniors just inducted into the Order of the Engineer. "You are taught a structured way of thinking, and that is something that offers tremendous value, not only to yourself, but to society," Parikh told them. "As long as you are passionate about what you do, you'll succeed."
Since earning his bachelor of science in electrical engineering from UNH in 1990, Parikh has been an entrepreneur and executive in the high-tech and life sciences sectors, specializing in matching innovative technologies with new applications. "I had a hard time trying to determine how to describe Rajiv's career because he has been so successfully involved in so many different ventures," said Mike Dalton, chairman of the society's award selection committee. "Passionate, dedicated, entrepreneurial and innovative are some of the adjectives that can be used to describe him."
After graduating from UNH, Parikh worked as a sales manager at AT&T Global Information Solutions, before earning an MBA from Harvard Business School in 1997. He then held senior positions at Sun Microsystems and AltaVista Company before co-founding Aperon Biosystems. He led the venture-backed medical device startup, which has so far raised more then $20 million in investor capital, for two years. He has also worked in the software, hardware and wireless industries.
While visiting UNH, Parikh toured the newly renovated portions of CEPS' home in Kingsbury Hall. Currently under construction, Phase II of the project includes a computer cluster that Parikh and his wife Bhairavi Parikh '91 helped finance. "I was really excited to walk through the new Kingsbury," he said. "I saw the same great professors, but a much better facility, making it more fun to work in the labs."